This time we're bringing you nu, absolutely chilled out, mixtape of our man
Mote
check the tracklist--
Appleblim And Peverelist - Over_Here
Calibre - Drinnahilly
Appleblim_And_Peverelist - Circling
Susumu Yokota & Rothko - Lit_By_Moonlight
Burial - Etched_Headplate
David Lynch - Rabbits_Theme_(Rabbits)
John Foxx & Harold Budd - Translucence
Susumu Yokota & Rothko - Clear_Space
Hector Zazou - Harar_Et_Les_Gallas
Steve Roach & Robert Rich - Touch
Mikkel Metal - Jeman
Lynx And Kemo - Glass_Jaw
Cipher - No_Ordinary_Man
Harold Budd - Juno
Hector Zazou - Vísur_Vatnsenda -Rósu (Björk)
Darkstar - Dead_2_Me
Burial - Unite
while you're enjoyin our sound kitchen, and prefer to cook something for ya selves,
check our our todays cooking suggestion recipe --
Croquettes of potatoes with cheese + tartar sauce and mix salad

* For preparing this lunch is necessary little bit more time, effort and work but it certainly pays off in the end. So do not be opinions, but screw up your sleeves, put strings and get job started. :)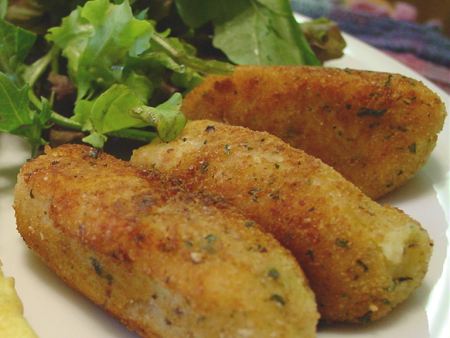 Ingredients for the croquettes:
(for 4-5 people)

800 g potatoes
200 g flour
200 g cheese
2 tablespoons margarine
50 ml milk
2 egg yolks 3 whole eggs
1 package of bread crumbs
oil
salt


The first stage of preparation is make good mashed potato. Peel potatoes, shred it into small pieces and put it in salted water to cook. As smaller cubes of potatoes that will soon be over. Cooked potato strain, mashed it well. Then add salt (if needed), margarine and milk. Mash it all together and mix until the mass is not completely homogeneous, lumps are not allowed.

Then add the mashed egg yolks over. Add flour gradually until the mass of genesis is not doughy, and puree until it receives solid. Do not overdo any good because if the mass is to tick croquettes will disintegrate.

Now comes the stage of formation of red croquet. We suggest the following method:
Cheese cut into thin traps to the length of 4cm.
Because it is still a bit mashed sticky is not possible to deal with him as with some of the easiest way is (for right-handed) to put flour on left hand and then put it in 1 / 2 tablespoons puree. Cheese impress and make a roll around it so it wont stick out . You should not put too much mashed potato for several reasons. The first is because the croquettes will grow and others are much tastier percent less if too mashed potatoes cheese will not be able to melt nicely. Flour applied to the palm after each croquette, and so made sketch arrange on a plate (not too close to each other) until the time of frying.

When all croquettes formed cross the frying. It is convenient to pre-prepare them all because when he reached this stage it is difficult to achieve in parallel and frying and making. In a frying pan pour oil (about 1cm). While the oil heats whisk eggs. Only when oil is at its peak temperature inserted croquettes because if the insert previously only will be too wet and greasy. Each individual croquet again in a little roll in flour and eggs and finally bread crumbs. Fry them until golden brown from all sides. Cork finished put them first on napkin so that they could drain out and then arrange on a plate (or bowl as you please).

Croquettes can be eaten and the cold but is much tastier experience crunchy cover with melted cheese and soft mashed potato. Serve with tartar sauce.


Since we are croquettes itself very strong and heavily fine them serve them with salad. Here's a suggestion:

Ingredients for salad:

1 / 4 green cabbage (this goes for the head size over 20cm)
1 / 4 purple cabbage (this goes for the head size over 20cm)
2-3 carrots
a little celery
1 green apple
sweet corn (from cans - because he almost does not have to be pre-prepared)
olive oil
vinegar from wild apple
salt
pepper
basil
thyme

Carrots, green and purple cabbage plane in the traditional manner. Celery plane in the most minor finer plane, is that boring and strike, but it's only way to make it so perfectly juicy. Apple peel off the plane and papers. Stain corn and add by request. All of this together and add oil, pepper and vinegar. very beautiful, colorful, delicious and refreshing salad.
Kroketi od krompira sa kackavaljom + tartar sos i mix salata

* Za ovaj rucak je poethodno malo vise vremena, truda i rada za pripremu ali se to svakako na kraju isplati. Tako da ne budite ljenji nego zavrnite rukave, stavite kecelje i bacite se na posao. :)

Sastojci za krokete:
(za 4-5 osoba)

800 g krompira
200 g brasna
200 g kackavalja
2 supene kasike margarina
50 ml mleka
2 zumanca + 3 cela jaja
1 paket prezli
ulje
so

Prva faza pripreme je spremiti dobar pire. Oguliti krompir, iseckati ga na sitne kockice i staviti ga u posoljenu vodu da se kuva. Sto su manje kocke krompira to ce pre biti gotov. Skuvan krompir procediti i dobro izgnjecti. Zatim dodati so (po potrebi), margarin i mleko. Sve to zajedno genjeciti i mesati dok masa ne bude potpuno homogena tj. grudvice nisu dozvoljene.



Zatim u gotov pire dodati zumanca. Brasno dodavati postepeno dok masa ne postanje testasta, odnosno dok pire ne dobije cvrstinu. Ne valja ni preterati jer ako je masa pregusta koreketi ce se raspadati.

Sad dolazi na red faza oblikovanja kroketa. predlazem sledecu metodu:
Kackavalja iseci na tanke stapice duzine do 4cm.
Posto je pire i dalje malo lepljiv ne moguce je baratati sa njim kao sa nekim testom najlakse je da (za desnjake) nabrasnaviti levi dlan i stavljati u njega 1/2 supene kasike pirea. Utisnuti kackavalj i napraviti valjak tako da nigde ne viri. Ne treba stavljati previse pirea iz vise razloga. Prvi je zato sto samo kroketi vremenom narastu a drugi mnogo su ukusniji manji posto ako je previse pirea sam kackavalj nece moci lepo da se istopi. Brasno nanositi na dlan posle svakog kroketa i tako napravljene krokete redjati na tanjir (ne previse blizu jedan drugom) dok ne dodje vreme za przenje.

Kad su svi kroketi formirani prelazimo na przenje. Jako je zgodno predhodno ih pripremiti sve posto kad vec dodje ova faza tesko je postici uporedo i przenje i pravljenje. U tiganj sipati ulja (oko 1cm). Dok se ulje zagreva umutiti jaja. Tek kad je ulje na vrhuncu temperature ubacivati krokete jer ako se ubace ranije samo ce se natopiti i bice preterano masni. Svaki kroket pojedinacno ponovo uvaljati malo u brasno pa u jaja i na kraju prezle. Prziti ih dok fino ne porumene sa svih starana. Gotove korkete prvo ostavti malo na salveti da se ocede a zatim redjati na tanjir (ili ciniju kako vam drago).


Kroketi mogu da se jedu i hladni ali je mnogo ukusnije iskusiti car krckave korice sa istopljenim kackavaljem i mekanim pireom. Posluziti i sa tartar sosom.


Posto su kroketi smo po sebi dosta jaki i teski fino je u njih serirati i salatu. Evo jedan od predloga:

Sastojci za salatu:

1/4 zelenog kupusa (ovo vazi za glavicu velicine oko 20cm)
1/4 ljubicastog kupusa (ovo vazi za glavicu velicine oko 20cm)
2-3 sargarepe
malo celera
1 zelena jabuka
kukuruz secerac (iz konzerve - iz razloga sto je on vec gotov, ne mora predhodno da se sprema)
maslinovo ulje
sirce od divlje jabuke
so
biber
bosiljak
majcina dusica

Sargarepe, zeleni i ljubicasti kupus izrendati na klasican nacin. Celer izrendati na naj sitnije finije rende, jest da je smaranje i cimanje ali jedino tako ima smisla i bude savrseno socan. Jabuku oljustiti i izrendati na listice. Kukuruz procediti dodati po zelji. Sve to zajedno zaciniti i dodati ulje i sirce. vrlo lepa, sarena, ukusna i osvezavajuca salata.


Prijatno za danas! :)

--------------------------------
*recipes thanx to Sanja Polovina